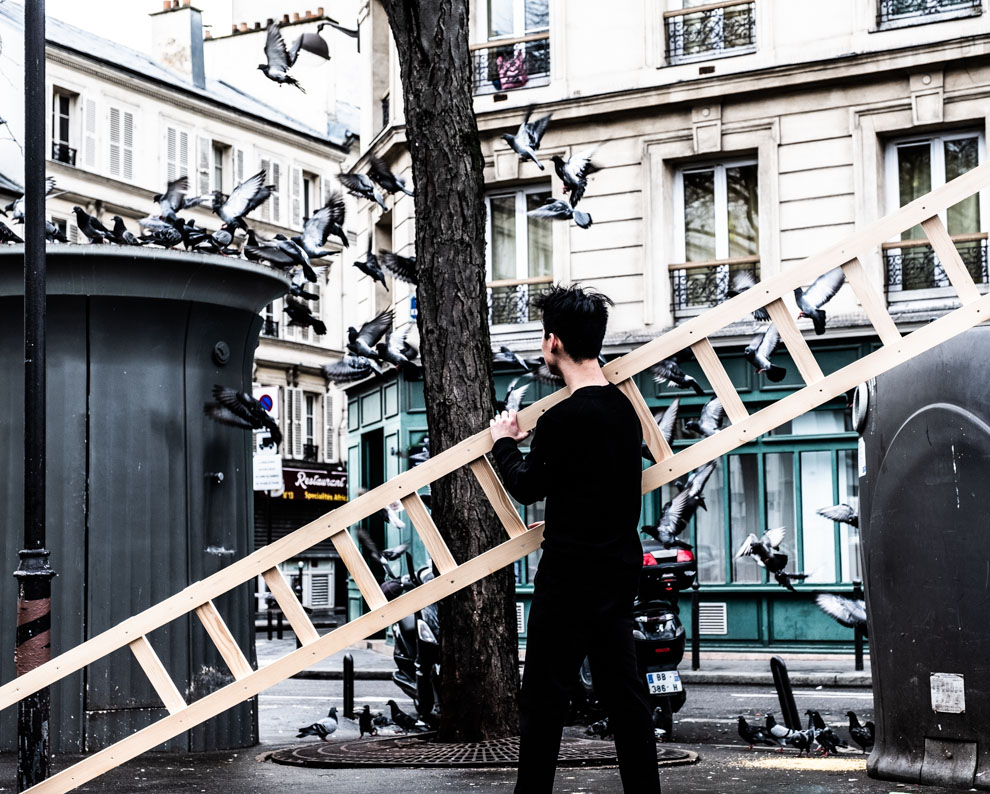 Crédit photos : Francesca Fiore ©
Paris, une ville internationale, un lieu d'une beauté particulière et rêvé par les touristes, mais aussi une ville débordée par cette image rêvée, débordée de culture, abusée de sa beauté propre. Cette ville est toujours remplie de gens. Personne n'est à l'arrêt dans la rue. Toujours en mouvement, la ville fournit sans cesse les images rêvées par le monde, elle est une explosion d'images. Chacun se déplace pour retrouver l'image qui lui est connue et pour retrouver son fantasme. Tour Eiffel, Orsay, le Louvre et ses oeuvres d'art, Montmartre, le Champs Élysées, la Seine, les magasins de mode, etc... Chacun se déplace pour retrouver son Paris.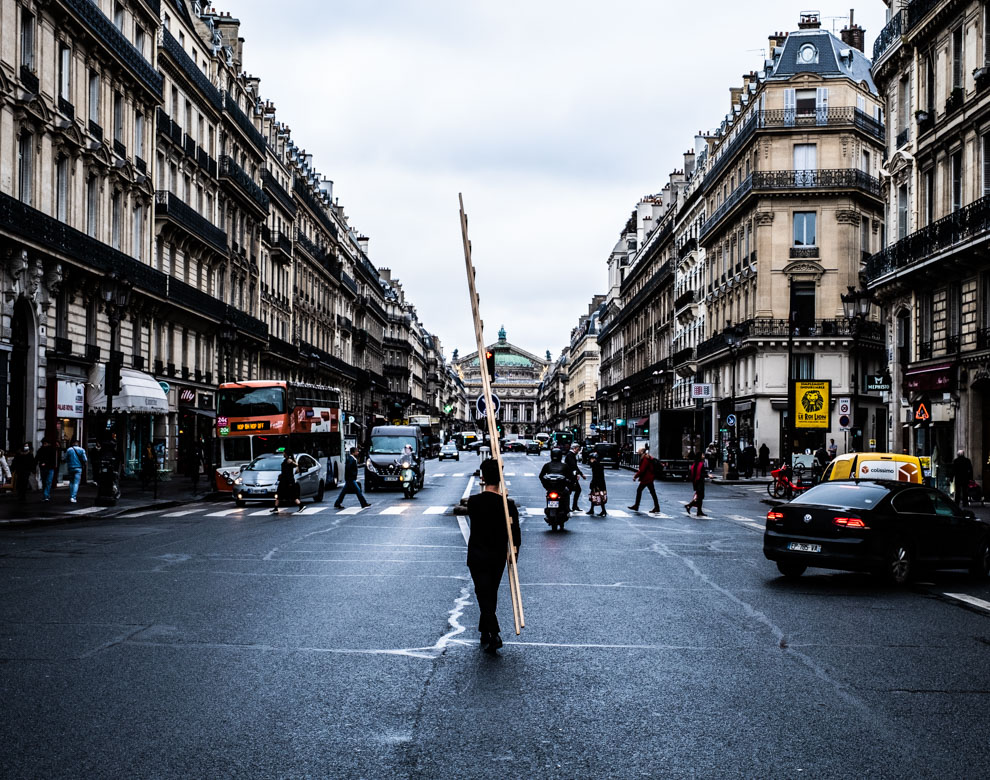 Crédit photos : Francesca Fiore ©
Mais pas que. Des images de publicités se mélangent. Les vendeurs de rue près des lieux touristiques, les arnaques, des sans domicile qui attendent au chaque coin de la rue pour une pièce, les gilets jaunes...Une ville où s'explose le désir humain, le débordement de l'image fait que Paris perd son identité. Je marche. Je marche à Paris. Je marche pour aller. Je marche à Paris pour aller. Je marche pour aller plus haut. Pas pour aller à la Tour Eiffel, pas pour m'arrêter au Louvre, pas pour aller contempler la vue sur le Sacré Coeur. Je marche simplement en espérant aller plus haut. Ce n'est pas les images de la ville qui m'attirent. Je marche dans Paris mais je me détache complètement de cette ville. Aucune image de Paris m'attire pendant cette marche.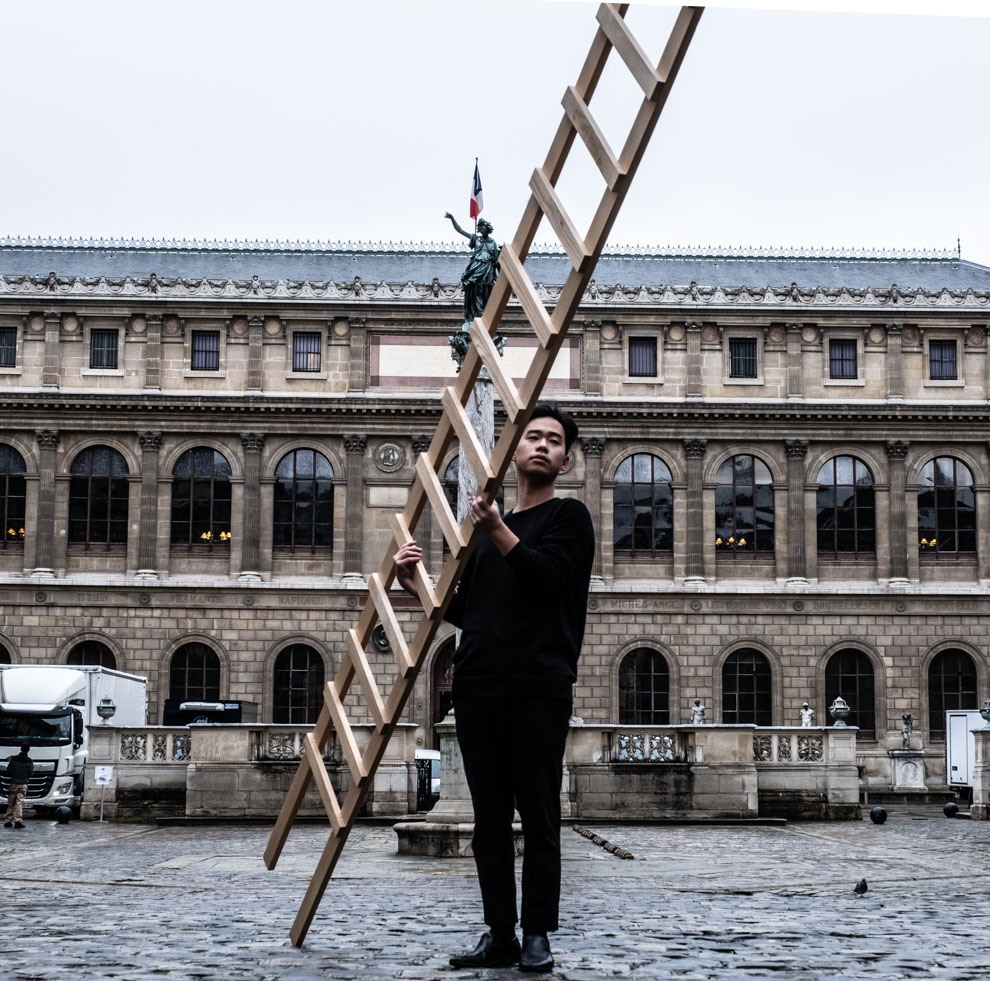 Crédit photos : Francesca Fiore ©
Je suis seul mais je suis au moins libre de ces images. J'ignore ma destination. Je n'ai qu'une vague idée d'aller plus haut avec l'échelle. Un rêveur stupide qui se blesse en portant une échelle de quatre mètres de long verticalement pendant à peu près deux heures. Mais ce n'est pas grave. Mon désir est au dessus des images de cet espace urbain. Je cherche à être ailleurs que Paris, peut-être un lieu de rêve, peut-être pour aller joindre les cieux. Je ne sais pas où je vais exactement mais je sais au moins que mon parcours est individuel, libre du simple désir humain qui se retrouve dans la ville. Libre des images, libre des désirs, je crée mon propre désir. Peut-être on me dirait que je suis naïf, que mon action est inutile. Mais dans cette action douloureuse et insignifiante, dans cette aspiration d'aller plus haut, libre de tout autre image, je retrouve un espoir d'un nouveau commencement. An Sung Ho
Paris, an international city, a place of particular beauty dreamed of by tourists, but also a city overflowing with this dreamy image, overflowing with culture, abused of its own beauty. This city is always full of people. No one is standing still in the street. Always in motion, the city constantly provides the images dreamed by the world, it is an explosion of images. Everyone moves around to find the image that is known to them and to rediscover their fantasy. The Eiffel Tower, the Orsay, the Louvre and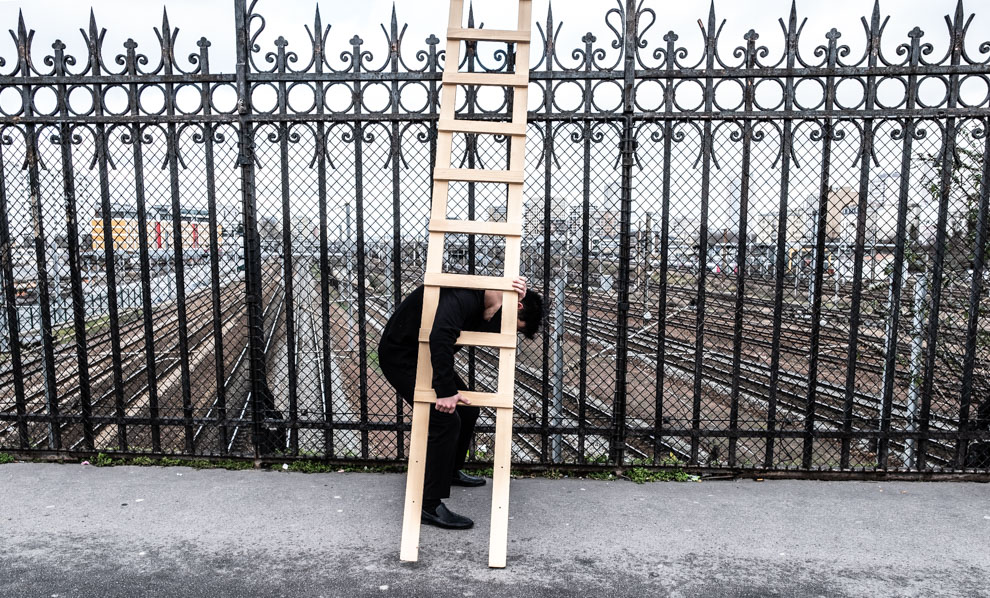 Crédit photos : Francesca Fiore ©
its works of art, Montmartre, the Champs Elysées, the Seine, the fashion stores, etc... Everyone travels to find their own Paris. But not only that. Images from advertisements mix together. Street vendors near tourist places, scams, images from advertisements, homeless people waiting at every corner for a coin, yellow vests... A city where human desire explodes, the overflowing image makes Paris lose its identity. I'm walking. I'm walking in Paris. I'm walking to go. I'm walking to Paris to go. I'm walking to go higher. Not to go to the Eiffel Tower, not to stop at the Louvre, not to look at the view of the Sacred Heart. I'm just walking in hopes of getting higher. It's not the images of the city that attract me. I walk in Paris but I completely detach myself from this city. No image of Paris attracts me during this walk. I am alone but at least I am free of these images. I don't know my destination. I only have a vague idea of going higher with the ladder. A stupid dreamer who hurts himself by carrying a four meter long ladder vertically for about two hours.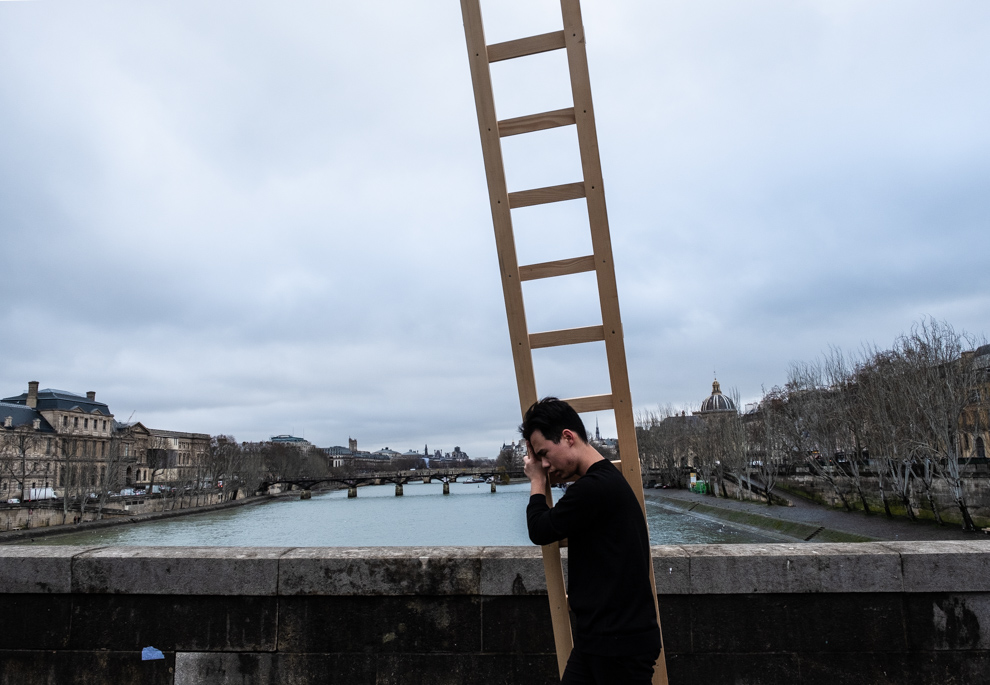 Crédit photos : Francesca Fiore ©
But that's all right. My desire is above the images of this urban space. I'm looking to be somewhere else than Paris, perhaps a place of dreams, perhaps to reach for the heavens. I don't know exactly where I'm going, but at least I know that my journey is individual, free from the simple human desire that is found in the city. Free of images, free of desires, I create my own desire. Perhaps I would be told that I am naive, that my action is useless. But in this painful and insignificant action, in this aspiration to go higher, free of all other images, I find hope for a new beginning. An Sung Ho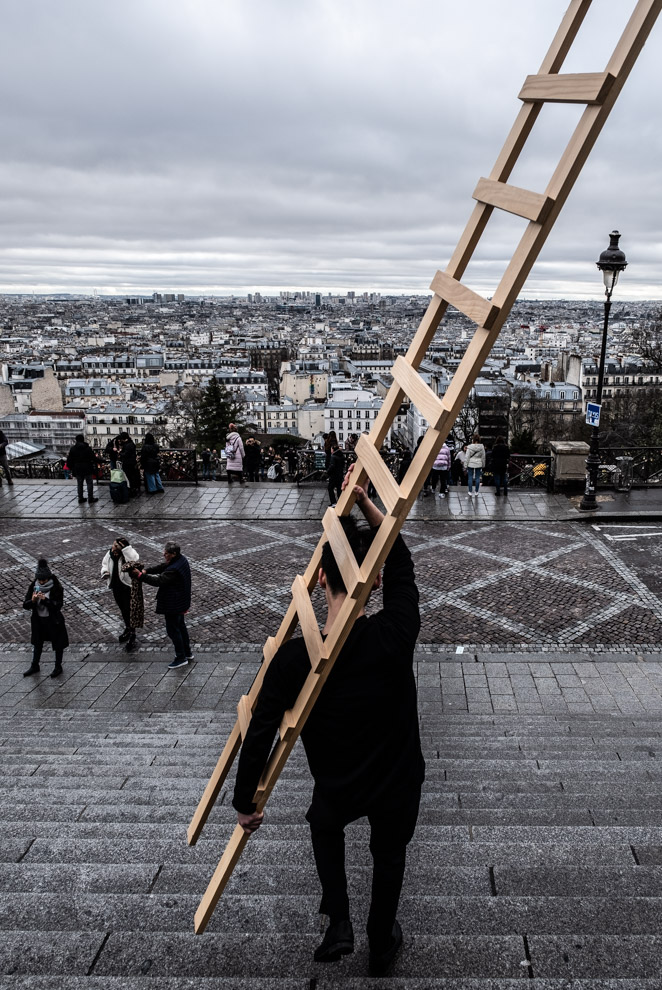 Crédit photos : Francesca Fiore ©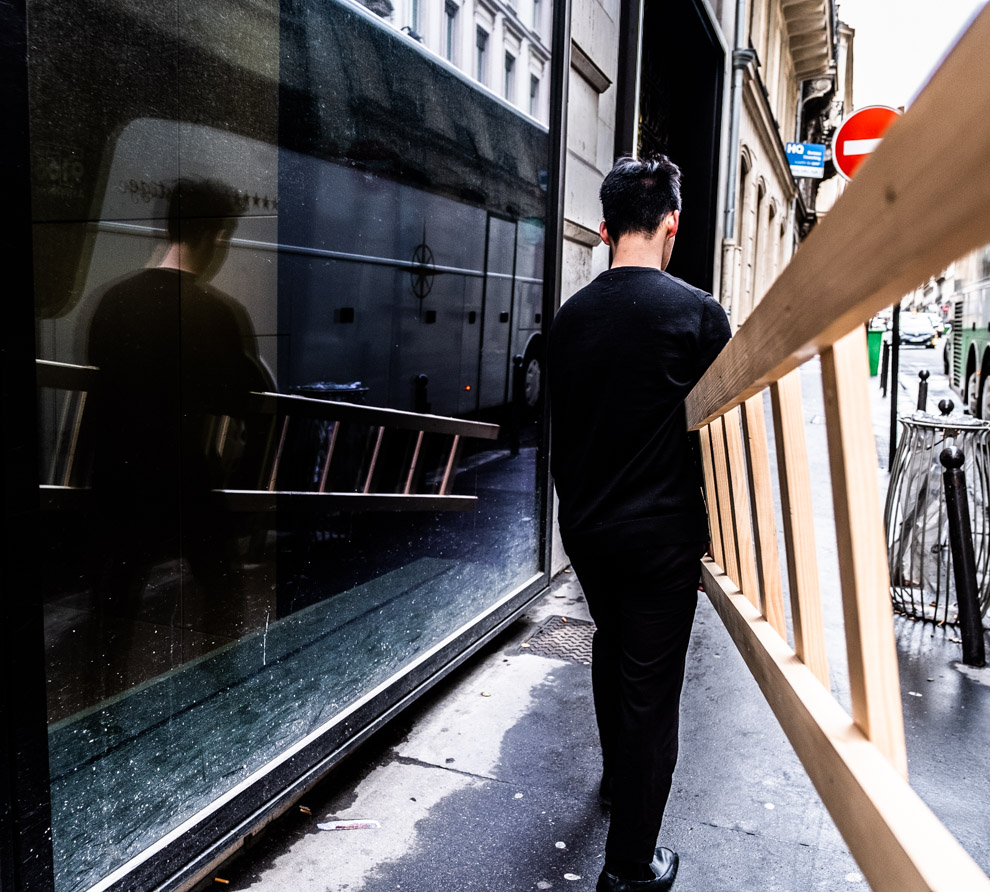 Crédit photos : Francesca Fiore ©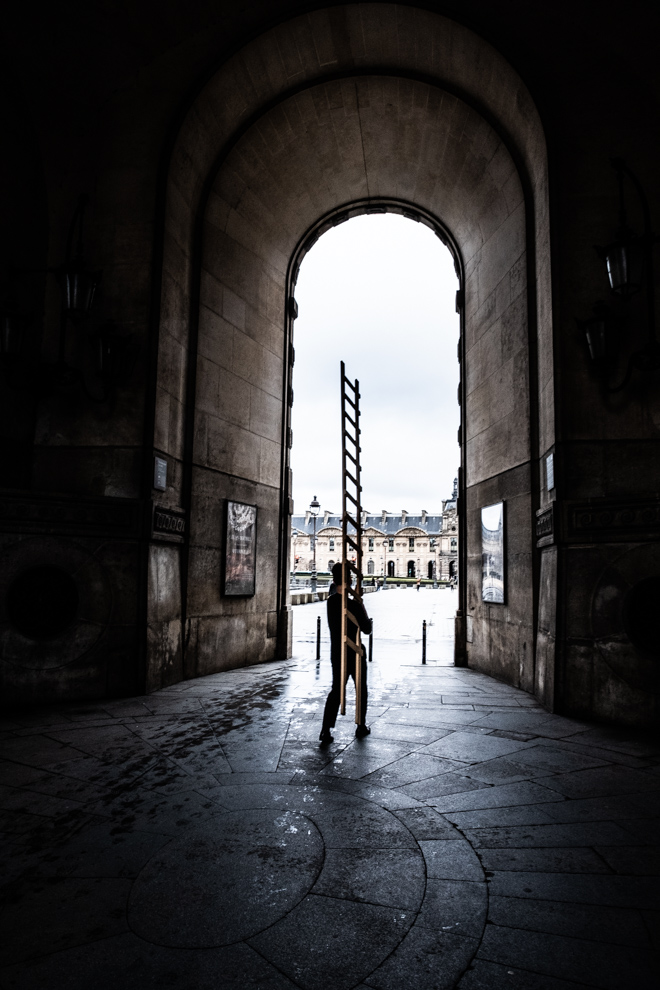 Crédit photos : Francesca Fiore ©