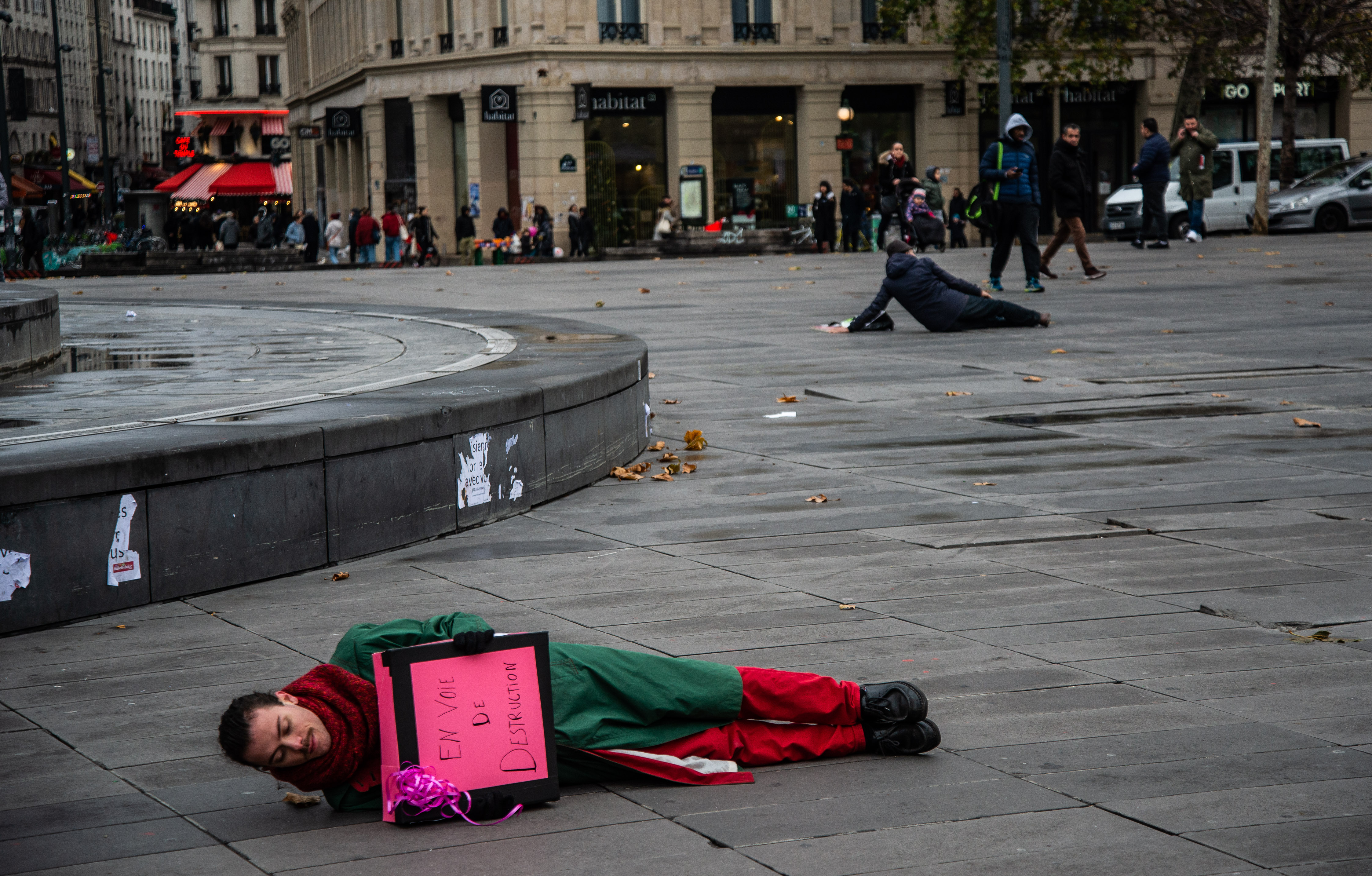 Crédit photos : Léo Derivot © - Site internet: www.leoderivot.com
Lorsque l'urgence écologique et sociale est criante mais que les actions globales tardent à venir, nous nous retrouvons tous individuellement porteur d'un lourd cadeau: Être un humain «EN VOIE DE DESTRUCTION». Mais que faire de celui-ci ? C'est après ce constat et sur ce questionnement que repose la naissance de cette performance dans l'espace public. 1 performance / 1H par jour / 1 humain / 24 jours / 24 Lieux. Gauthier Ployette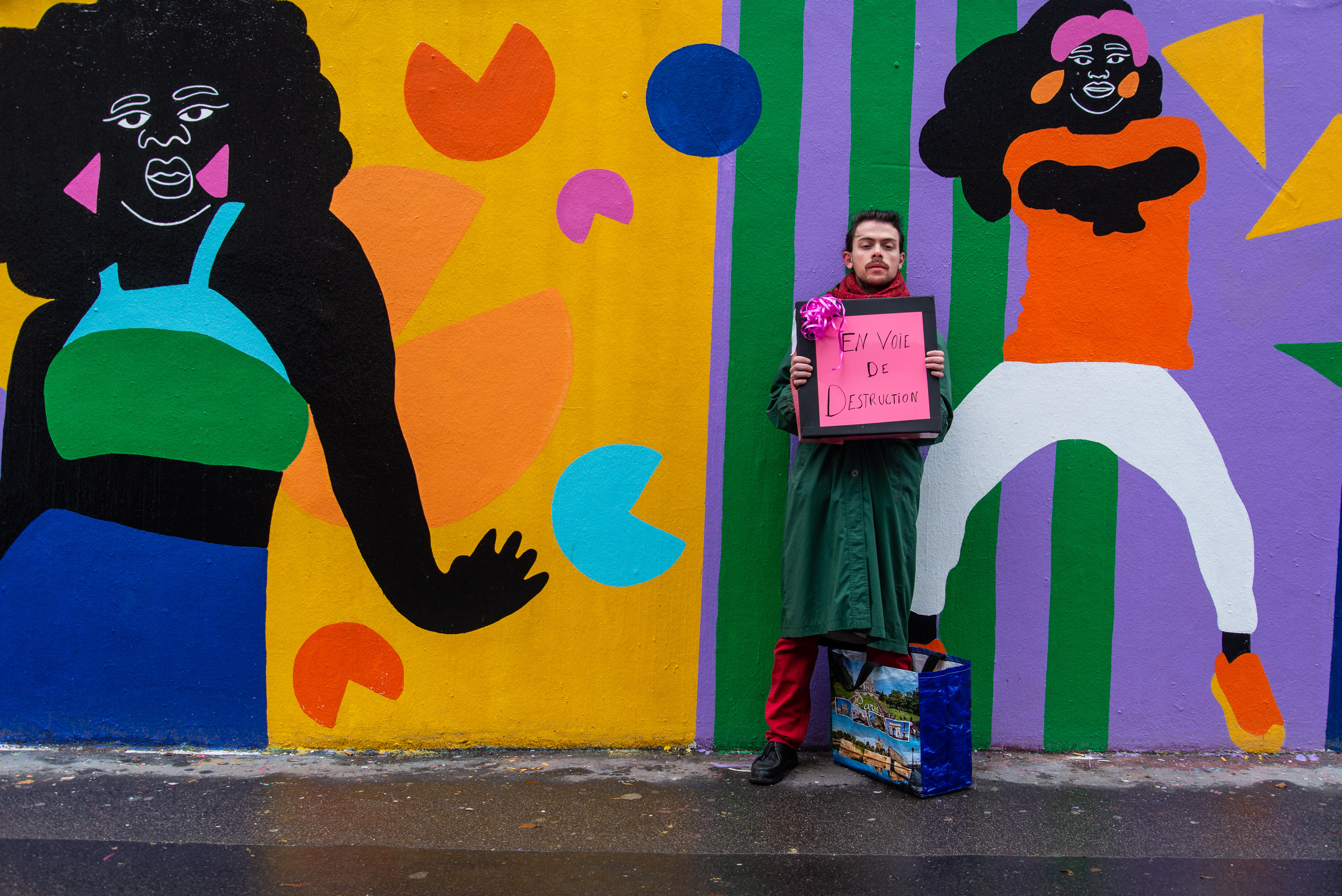 Crédit photos : Léo Derivot © - Site internet: www.leoderivot.com
«En voie de destruction», mots simples et cyniques. Pour cette performance calme et immobile, j'ai désiré rendre compte de la relation à l'espace, aux êtres qui passent, s'arrêtent des fois, ou ne voient rien. Immobile, face au monde en effervescence. Sans avoir toujours conscience de ce « cadeau » qu'il porte que nous portons aussi, un monde en déclin. Posons nous la question de l'utilisation de ce don.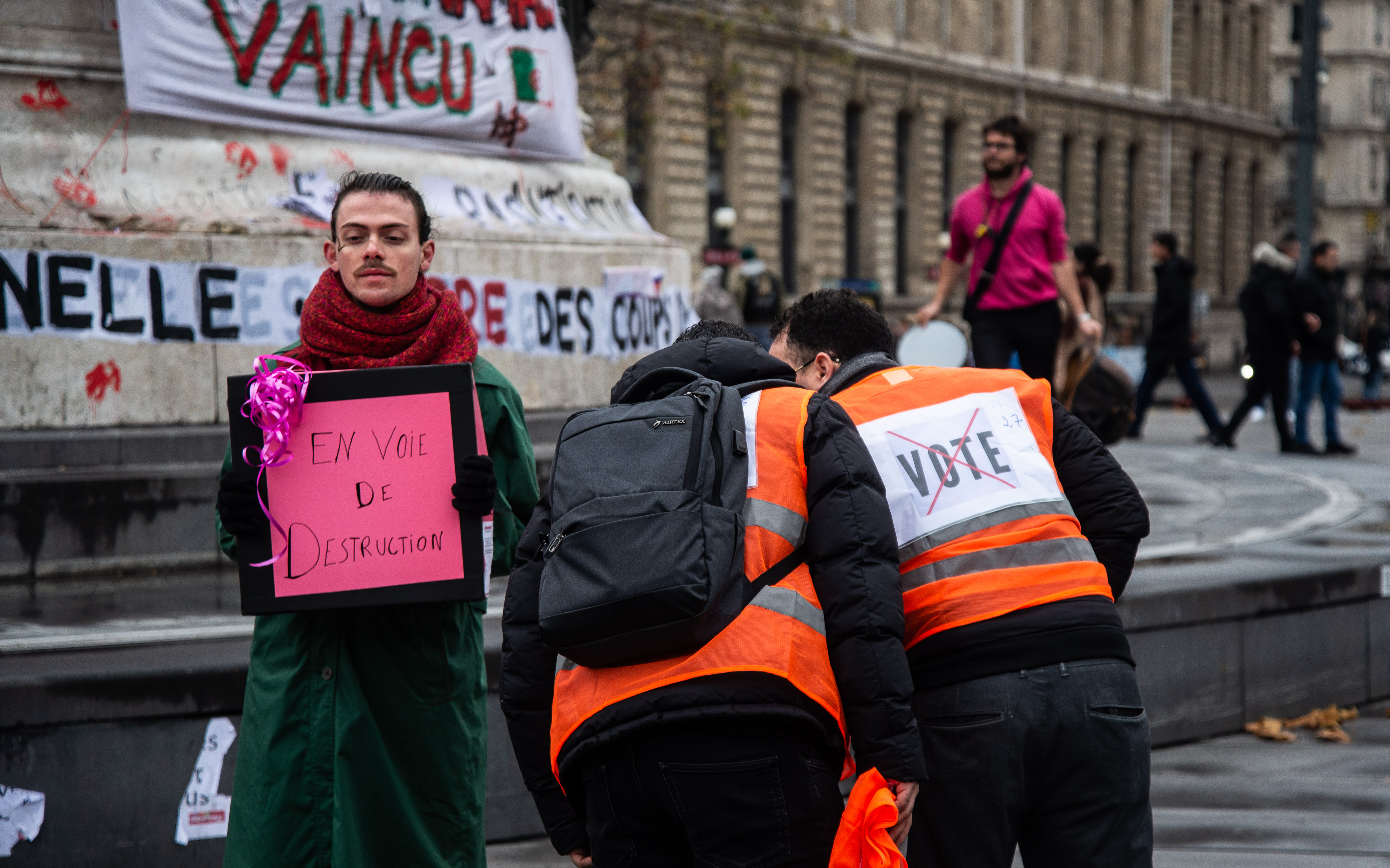 Crédit photos : Léo Derivot © - Site internet: www.leoderivot.com
L'art se doit, me semble t'il être une action politique. C'est pour cette raison que j'ai désiré accompagner cette performance humble et mûrement réfléchie. Dans l'ensemble de mes travaux je tente de montrer ce qui m'interpelle dans la société contemporaine et de questionner notre rôle individuel et collectif. La plongée dans un monde de plus en plus virtuel a, me semble-t-il, accéléré notre rapport au temps, au monde et particulièrement, à celui des images. Nous n'accordons plus de temps aux paysages qui nous entourent, pas plus qu'à l'humain que nous croisons chaque jour sans réellement le voir. Utiliser la photographie comme espace de décélération, de réflexion sur nos relations humaines est mon principal objectif. Prenons pour quelques instants le temps de vivre, de nous questionner et de regarder le monde différemment. Arrêtons nous et tentons d'immobiliser le présent qui poursuit sa course sans nous. Léo Derivot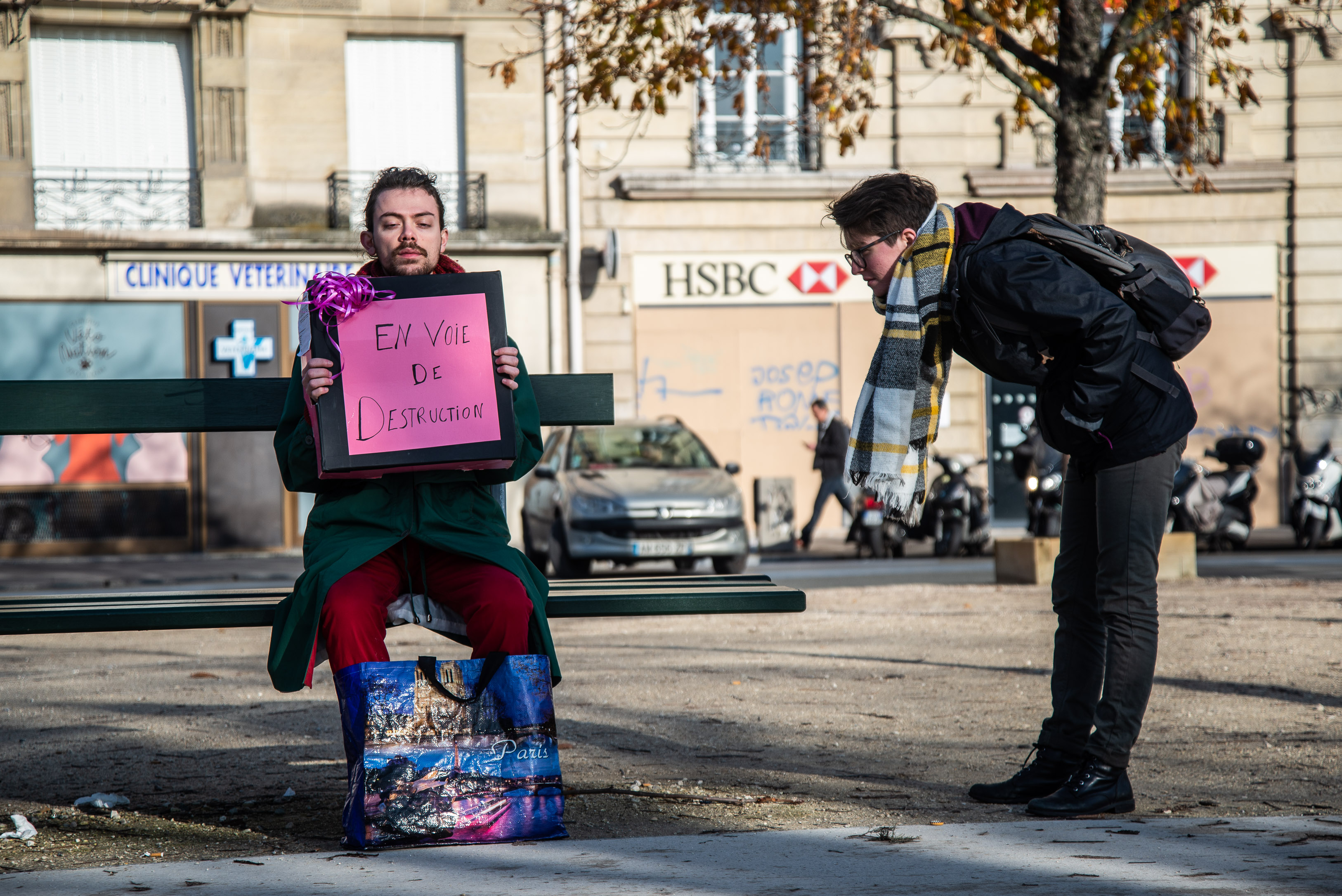 Crédit photos : Léo Derivot © - Site internet: www.leoderivot.com
When the ecological and social urgency is crying but global action is slow to be taken. Coming here, we all find ourselves individually carrying a heavy gift: to be a human being "ON THE WAY OF DESTRUCTION". But what to do with it? It is after this observation and on this questioning that the birth of this performance in the public space rests. 1 performance / 1H per day / 1 human / 24 days / 24 Locations. Gauthier Ployette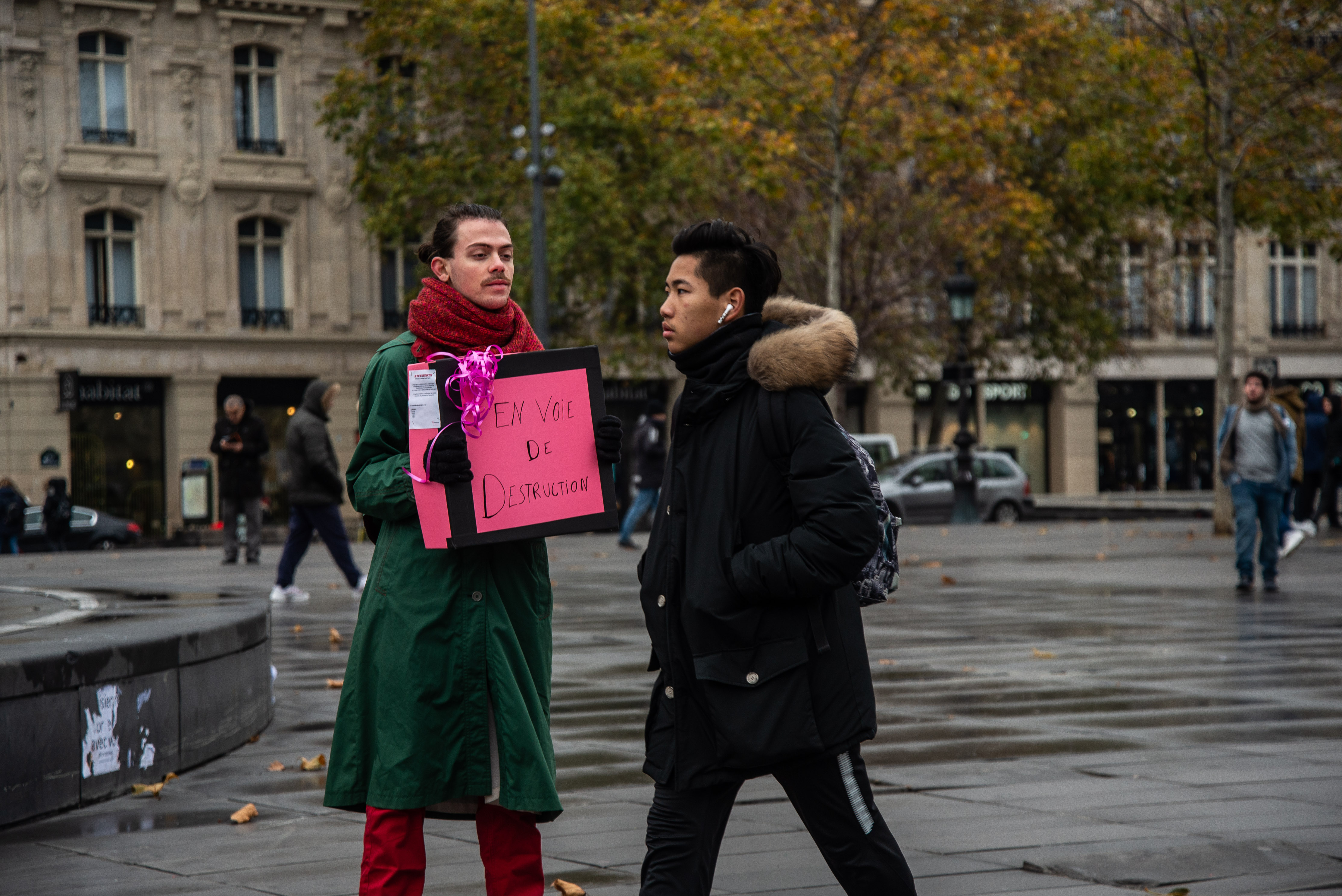 Crédit photos : Léo Derivot © - Site internet: www.leoderivot.com
« In the process of destruction, » simple, cynical words. For this calm and motionless performance, I wanted to give an account of the relationship to space, to beings that pass by, stop sometimes, or see nothing. Motionless, facing the world in turmoil. Without always being conscious of this "gift" that it carries that we also carry, a world in decline. Let us ask ourselves the question of how to use this gift.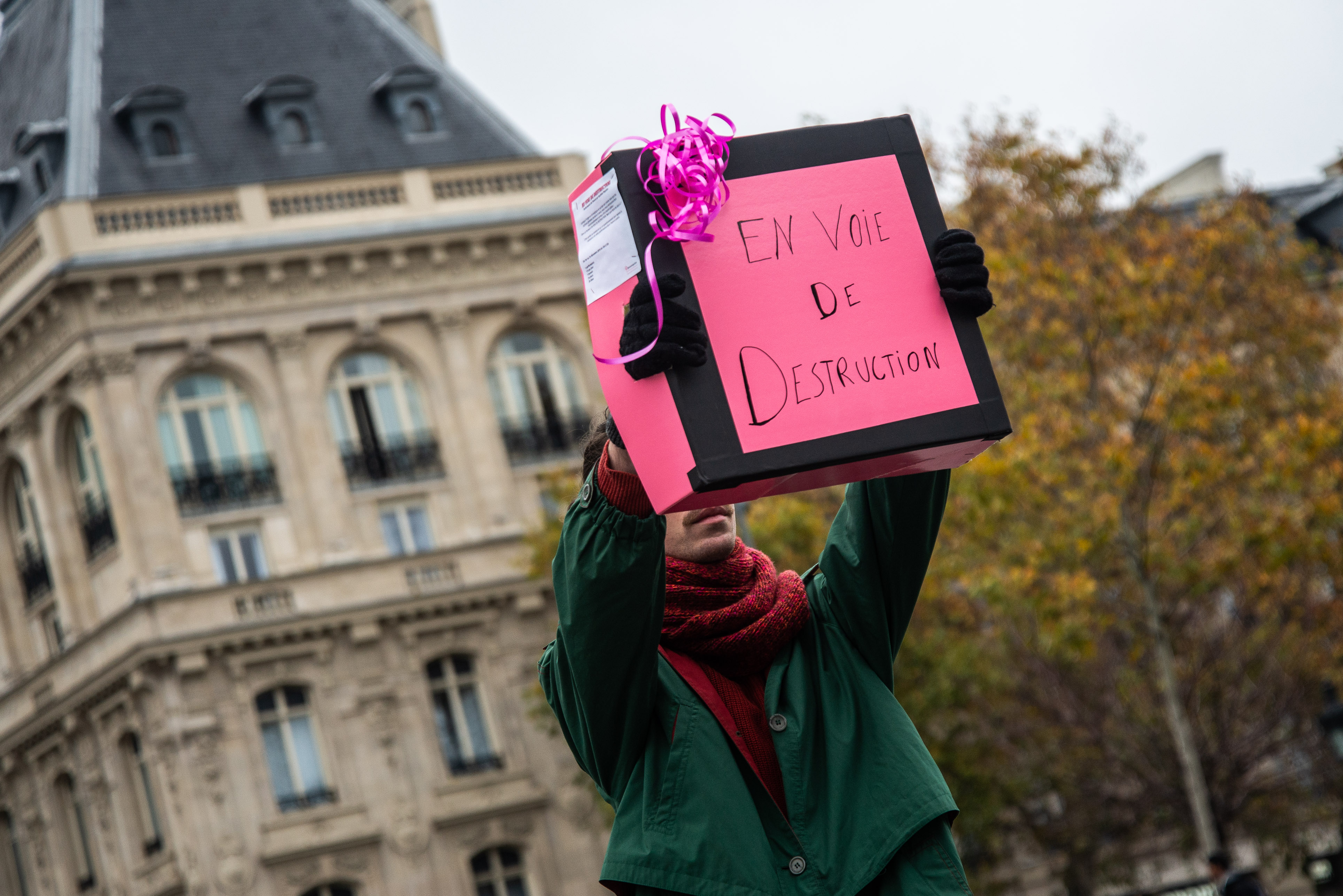 Crédit photos : Léo Derivot © - Site internet: www.leoderivot.com
Art must, it seems to me, be a political action. This is why I wanted to accompany this humble and thoughtful performance. In all of my work I try to show what challenges me in contemporary society and to question our individual and collective role. Diving into an increasingly virtual world has, it seems to me, accelerated our relationship to time, to the world and particularly to the world of images. We no longer give time to the landscapes that surround us, nor to the human beings we come across every day without really seeing them. To use photography as a space of deceleration, of reflection on our human relations is my main objective. Let's take for a few moments the time to live, to question ourselves and to look at the world differently. Let us stop and try to immobilise the present which continues its course without us. Léo Derivot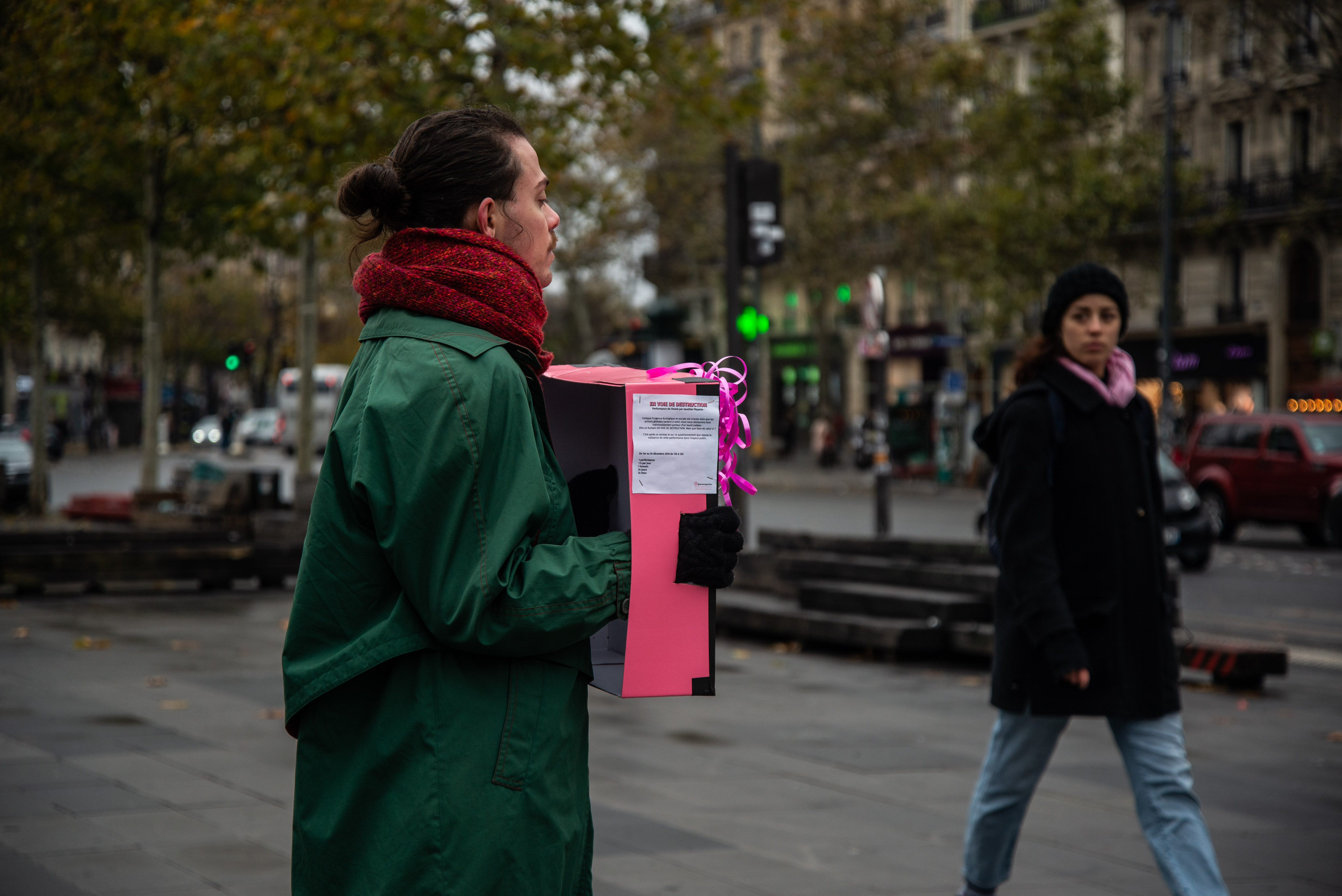 Crédit photos : Léo Derivot © - Site internet: www.leoderivot.com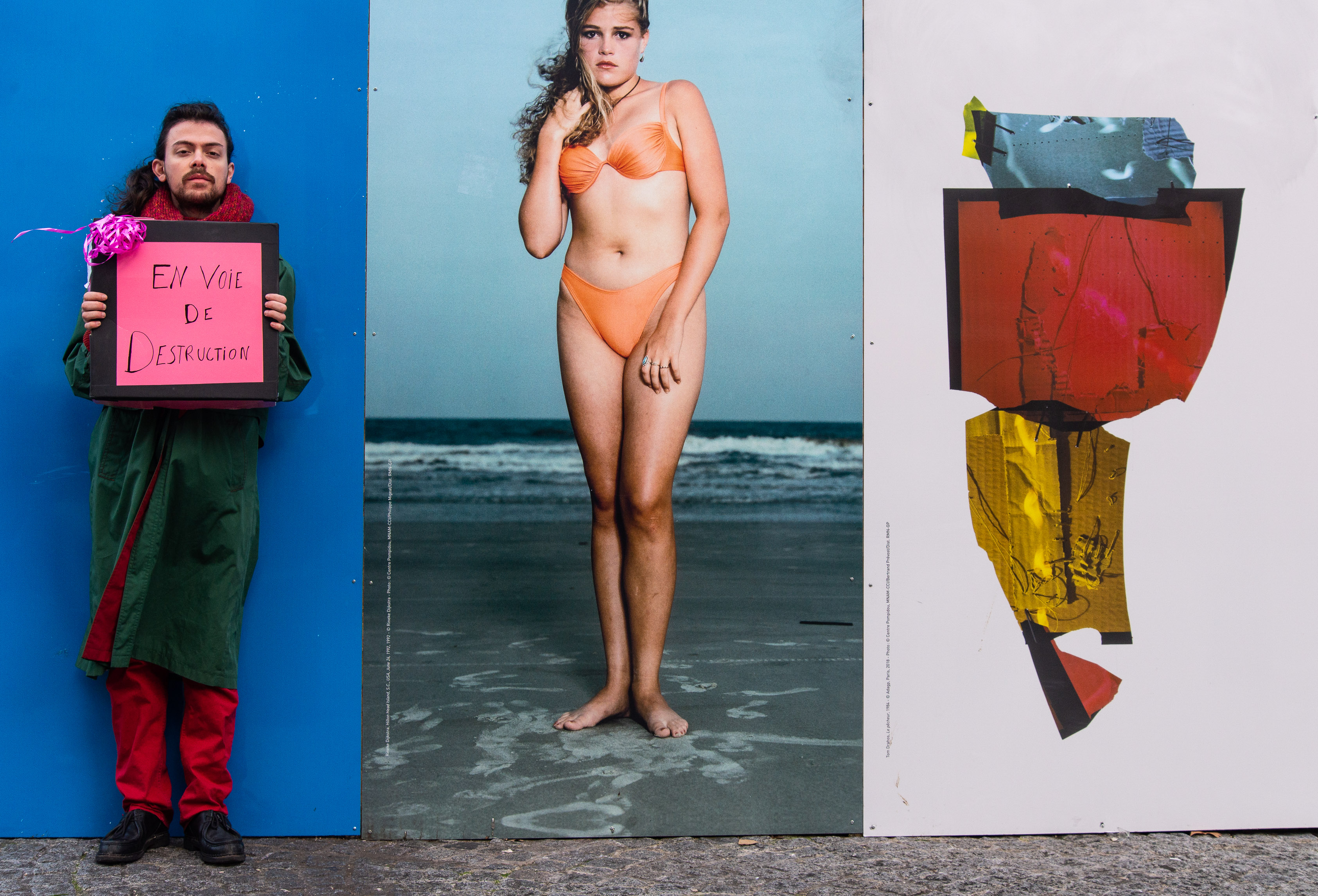 Crédit photos : Léo Derivot © - Site internet: www.leoderivot.com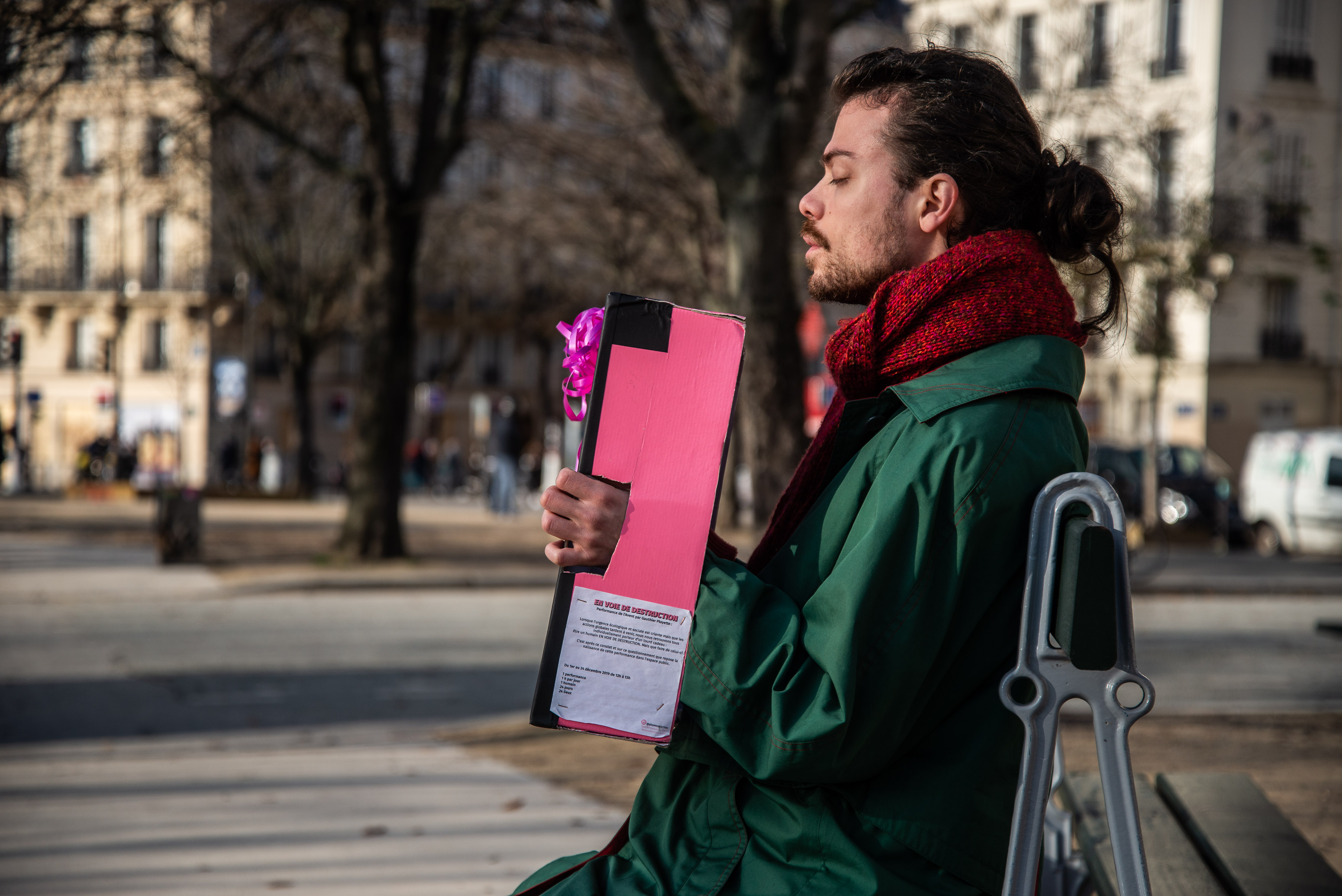 Crédit photos : Léo Derivot © - Site internet: www.leoderivot.com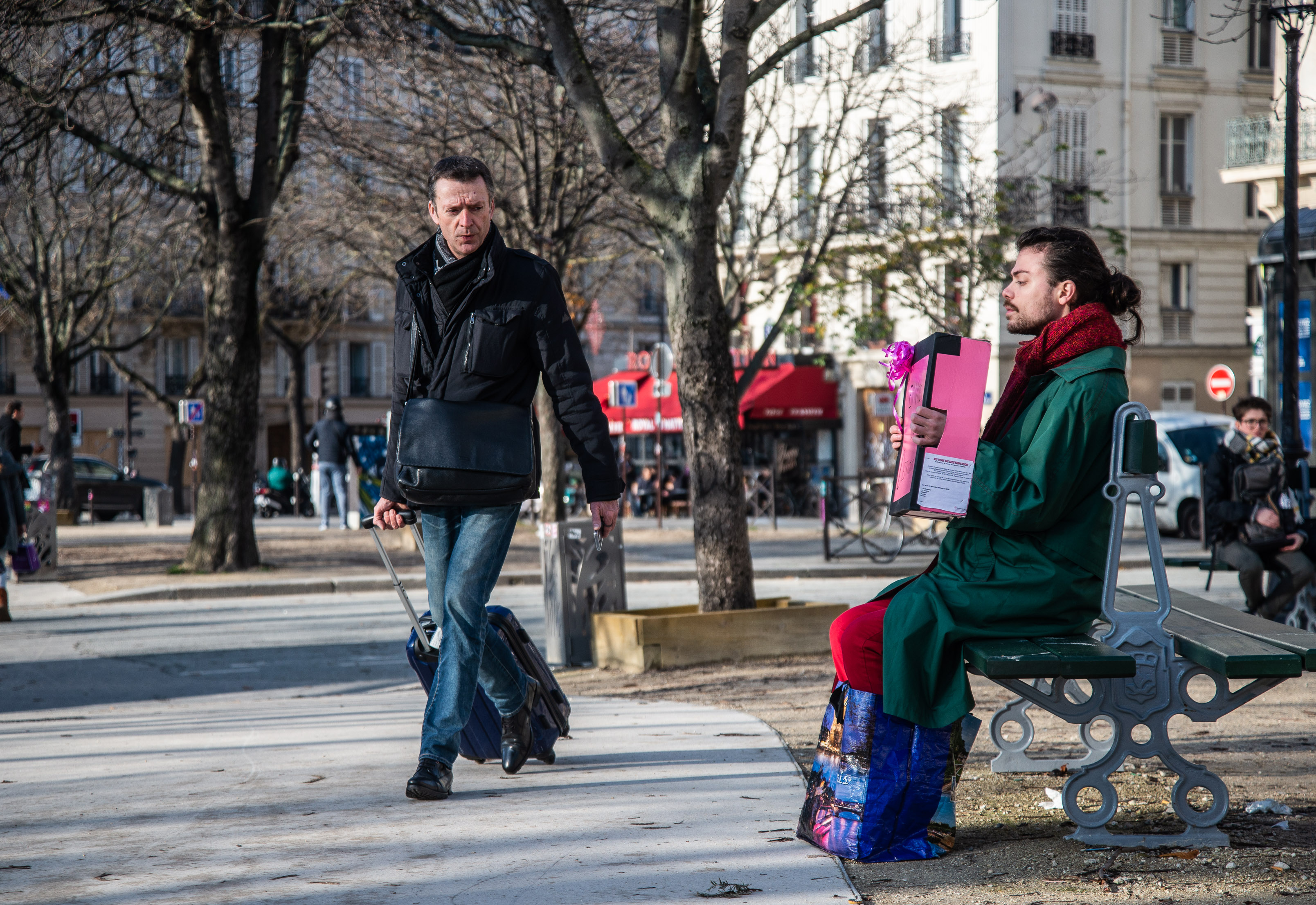 Crédit photos : Léo Derivot © - Site internet: www.leoderivot.com