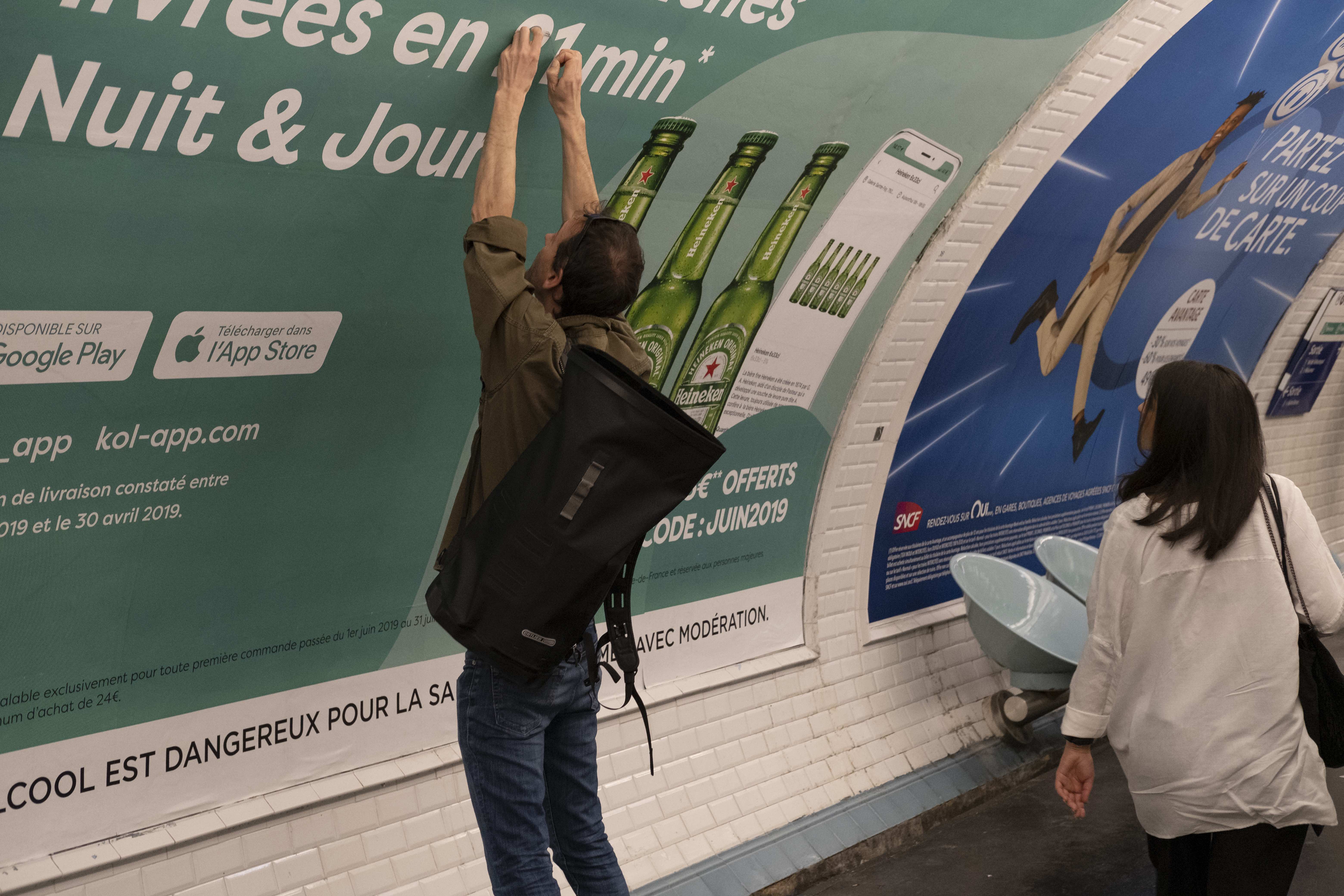 Crédit photos : Corentin SCHIMEL ©
Depuis une quinzaine d'années, je photographie les affiches déchirées dans les souterrains du métro. Cela a donné lieu à une série « Figure in motion » en 2010 pour laquelle j'ai utilisé l'oeuvre de Jean-Charles Blais en mutation à la station Assemblée Nationale. Oeuvre tristement disparue depuis. En 2018 les tirages de la série « Scars » (photographies cyanotype d'affiches déchirées) ont été offerts au public pour le projet «C'est Parti de deux mots : Taki 183». ​ Le pariétisme, mouvement initié par Camille Sauer, s'attache à imposer un système d'écriture artistique au sein de la ville. En plus de prendre des photographies je vais m'appliquer à les rendre à la ville sous forme d'un langage sous-terrain. Pour ce nouveau projet « Abîme », le procédé se déroule en 3 temps : Photographier des affiches déchirées et en faire des tirages : à la fois capturer un temps cours d'existence d'un objet peut-être devenu oeuvre ; et aussi s'attacher à ces fragments de société « Scars » partiellement abstraits sur lesquels des inconnus ont interféré.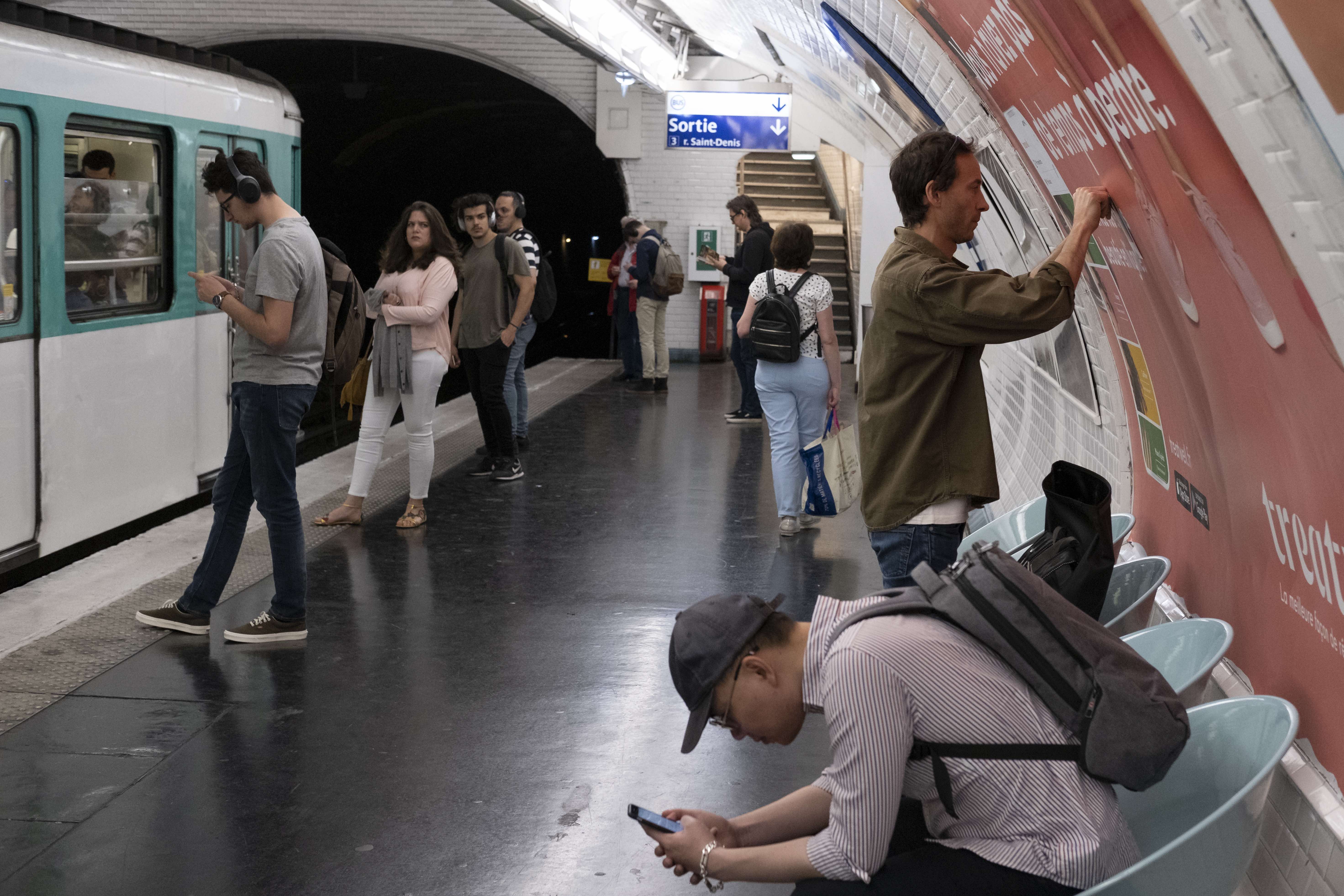 Crédit photos : Corentin SCHIMEL ©
Apposer ces tirages sur des affiches intactes : il s'agit d'un acte intrusif mais non destructeur. Généreux aussi puisqu'il s'agit de donner plutôt que de prendre/supprimer : une image qui d'ailleurs pourra être emportée (arrachée) par un passant s'il décide de l'arracher du mur. Augmenter, rehausser une publicité dont le propos parait particulièrement inintéressant. Discret puisque face à une image 4 x 3 m, le tirage ne mesure que 14 x 17,5 cm. Déplacer une image sur une autre et ainsi lui donner du mouvement et donc du temps. Reste le choix de la position du tirage dans la publicité : au grès des slogans et des images. Photographier ces tirages sur ces images (le travail du photojournaliste) : donner une existence au projet dans le temps (l'archiver) en photographiant la photographie d'une photographie.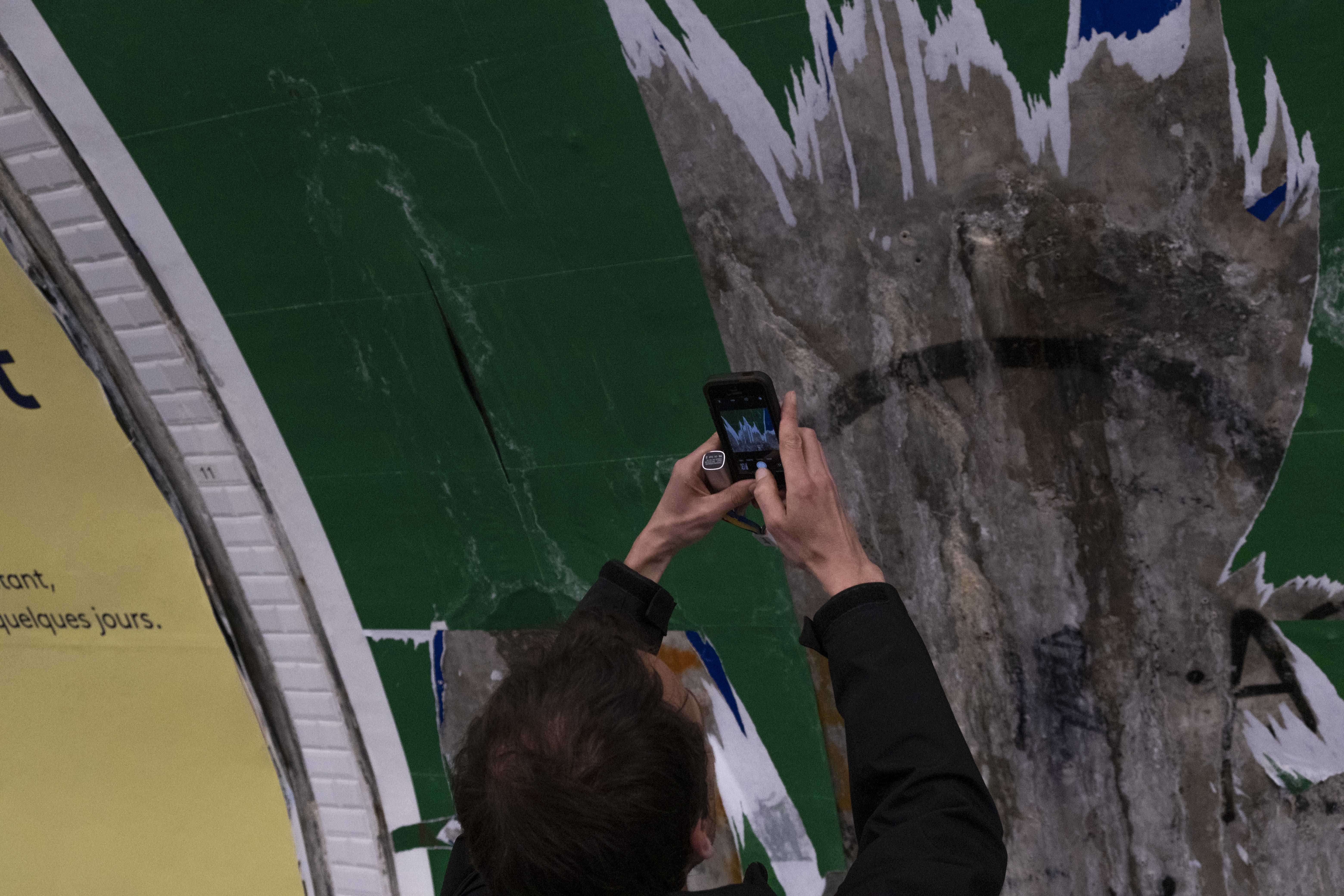 Crédit photos : Corentin SCHIMEL ©
Le photojournaliste est lui-même un vecteur du système publicitaire auquel personne n'échappe puisque son travail représentera inévitablement les publicités augmentées. Un travail de mise en abîme de l'image publicitaire qui fait bien sûr référence au travail de Jacques Villeglé, pour qui le véritable artiste est le lacérateur anonyme. Villeglé emporte puis recadre en découpant les affiches lacérées par d'autres. Je vais également recadrer (photographiquement) mais mon appropriation sera de courte durée puisque je rendrai ses images à la ville dans un geste politique et symbolique. Abîme veut rendre les images au public sans abimer mais en donnant du temps : temps de réflexion sur l'imagerie publicitaire et sur les réactions qu'elle engendre. Egalement immiscer du temps dans un objet éphémère, lui donnant ainsi statut d'oeuvre.
Crédit photos : Corentin SCHIMEL ©
For the past fifteen years or so, I have been photographing the posters torn in the underground of the metro. This led to a series of "Figure in motion" in 2010 for which I used Jean-Charles Blais' work in mutation at the station Assemblée Nationale. Work sadly disappeared since then. In 2018 the prints of the "Scars" series (cyanotype photographs of torn posters) were offered to the public for the project "C'est Parti de deux mots : Taki 183". Parietism, a movement initiated by Camille Sauer, aims to impose a system of artistic writing within the city. In addition to taking photographs, I will try to return them to the city in the form of an underground language. For this new "Abyss" project, the process takes place in 3 stages: Photographing torn posters and making prints of them: both capturing time during the existence of an object that may have become a work of art; and also attaching oneself to these partially abstract "Scars" fragments of society on which strangers have interfered. Putting these prints on intact posters is an intrusive but non-destructive act. Generous too, since it is a matter of giving rather than taking/deleting: an image that can be taken away (ripped off) by a passer-by if he decides to tear it off the wall.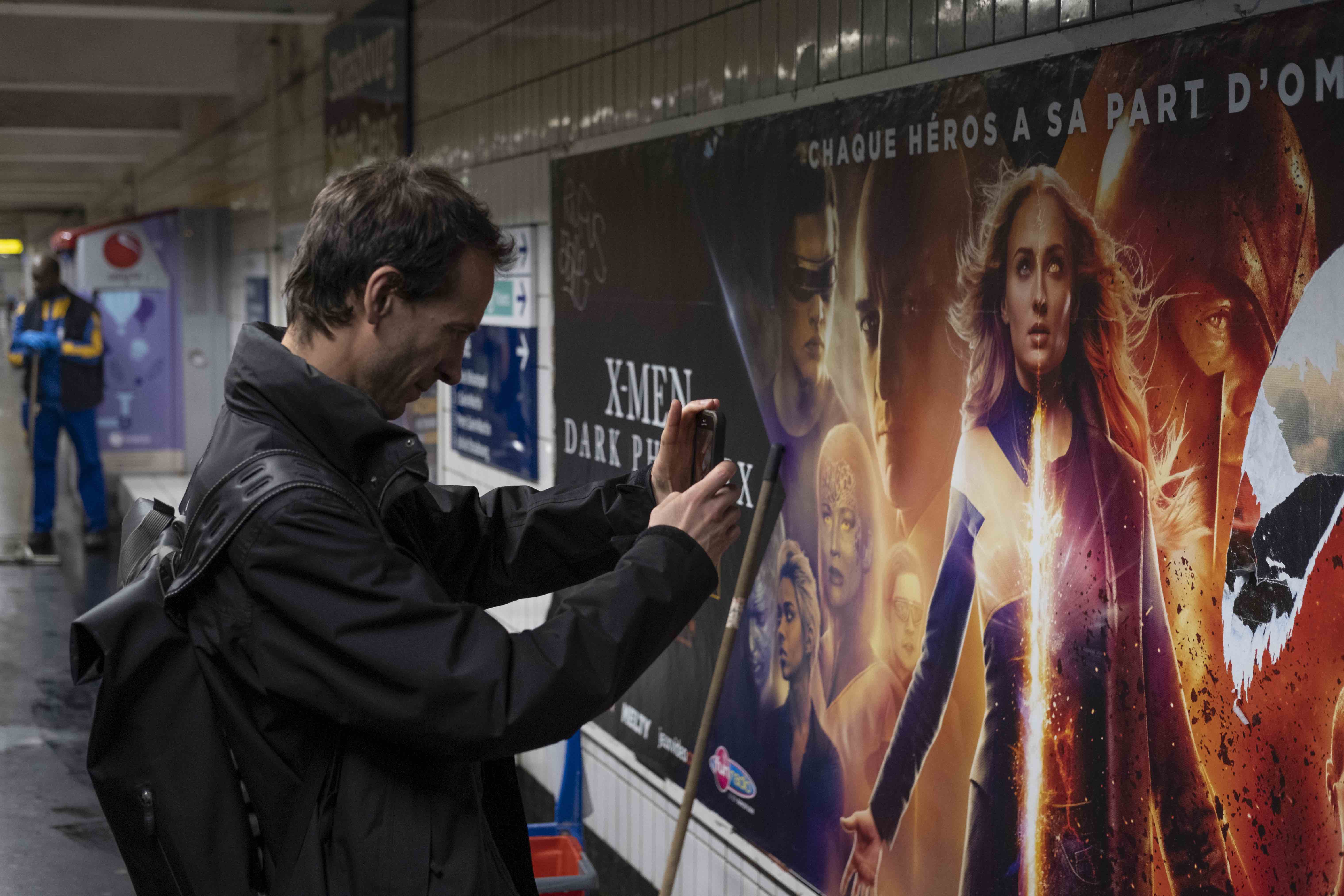 Crédit photos : Corentin SCHIMEL ©
Increase, enhance an advertisement whose purpose seems particularly uninteresting. Discreet because in front of a 4 x 3 m image, the print measures only 14 x 17.5 cm. Move one image over another and thus give it movement and therefore time. The choice of the position of the print in the advertisement remains: depending on the slogans and images. Photograph these prints on these images (the work of the photojournalist): give existence to the project over time (archive it) by photographing the photograph of a photograph. The photojournalist is himself a vector of the advertising system from which no one escapes since his work will inevitably represent increased advertising.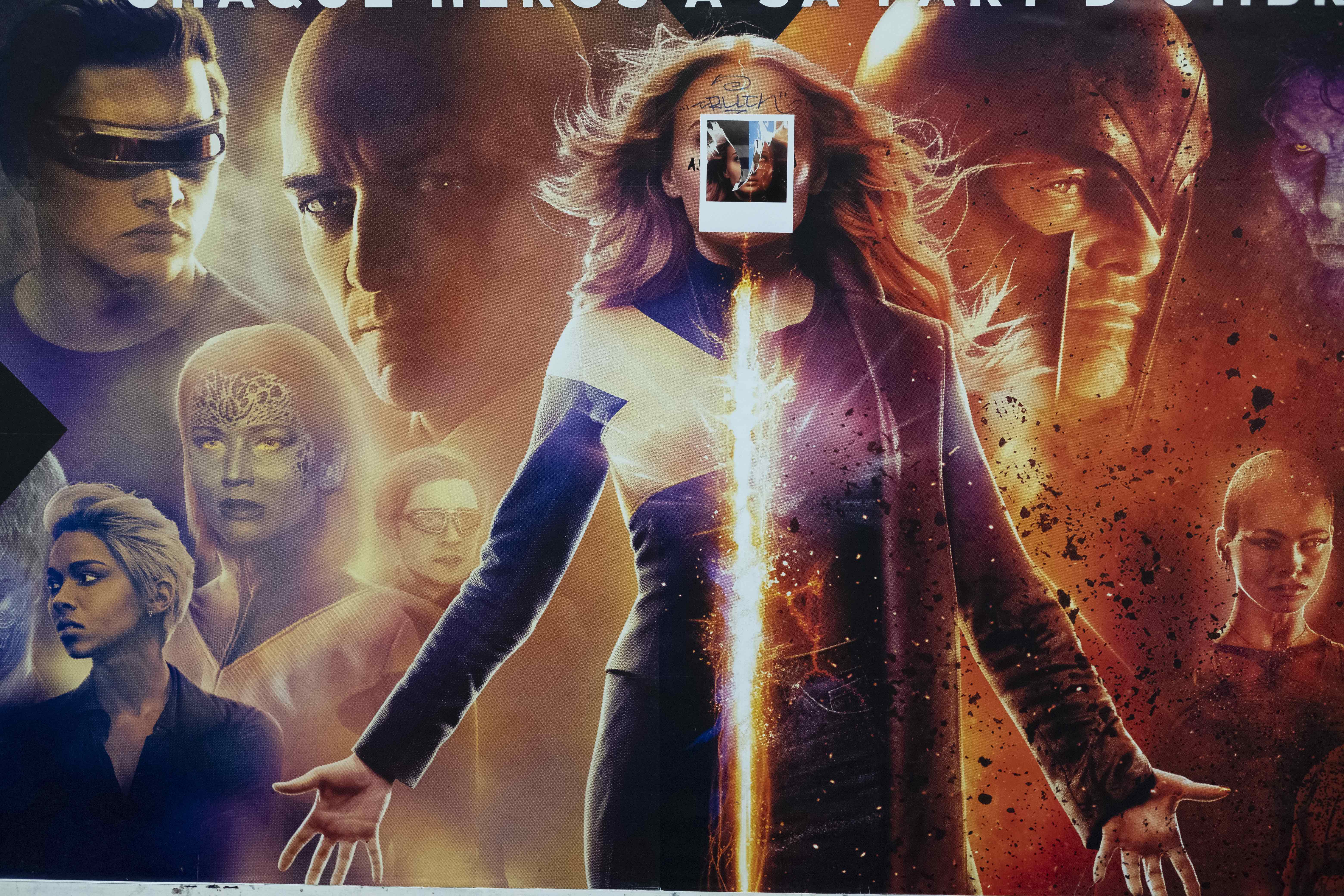 Crédit photos : Corentin SCHIMEL ©
A work of mise en abîme of the advertising image which of course refers to the work of Jacques Villeglé, for whom the real artist is the anonymous lacerator. Villeglé takes away and then reframes by cutting out the posters torn by others. I will also reframe (photographically) but my appropriation will be short-lived since I will return his images to the city in a political and symbolic gesture. Abîme wants to return the images to the public without damaging them but by giving time: time to reflect on the advertising imagery and the reactions it generates. Also to interfere with time in an ephemeral object, thus giving it the status of a work of art.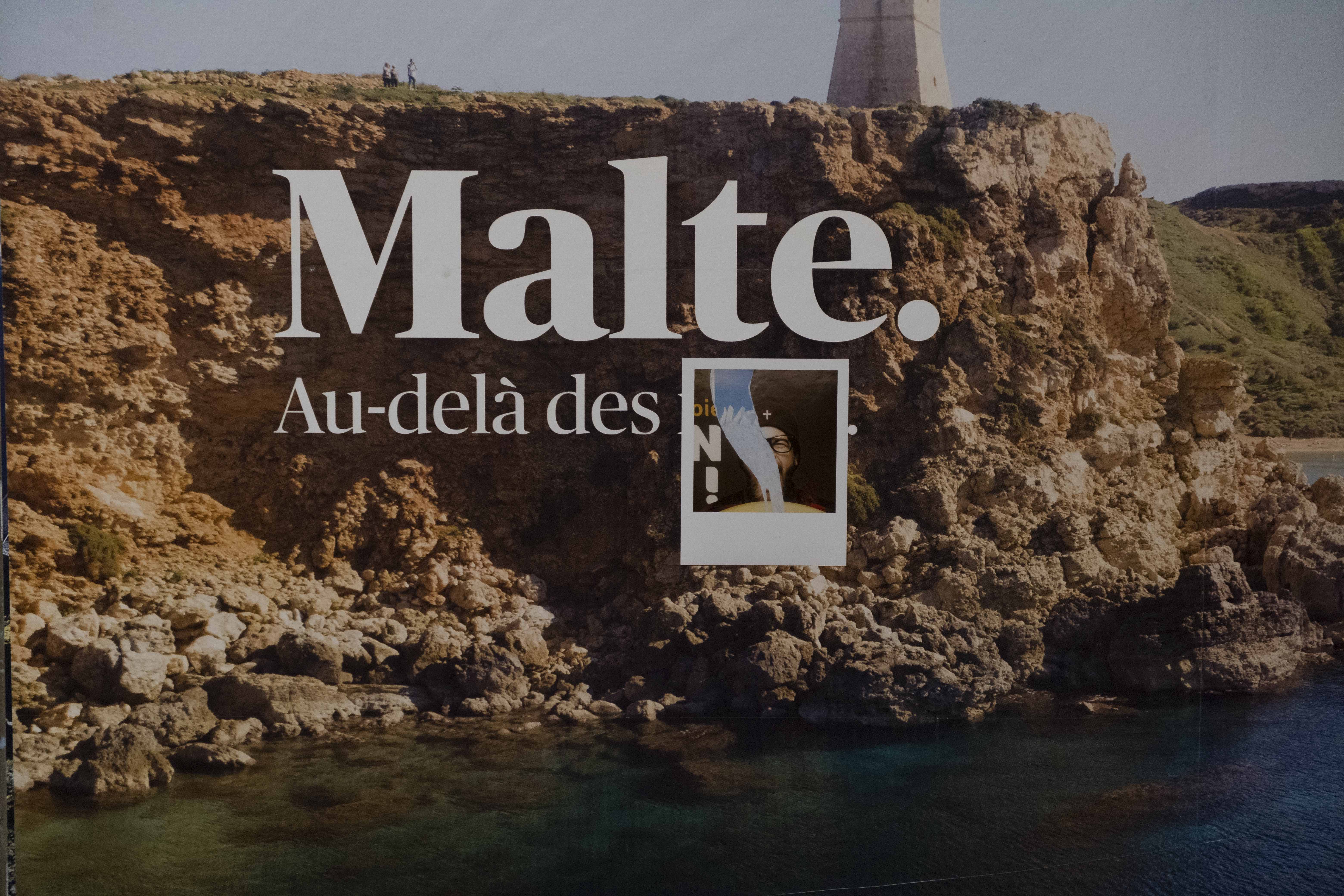 Crédit photos : Corentin SCHIMEL ©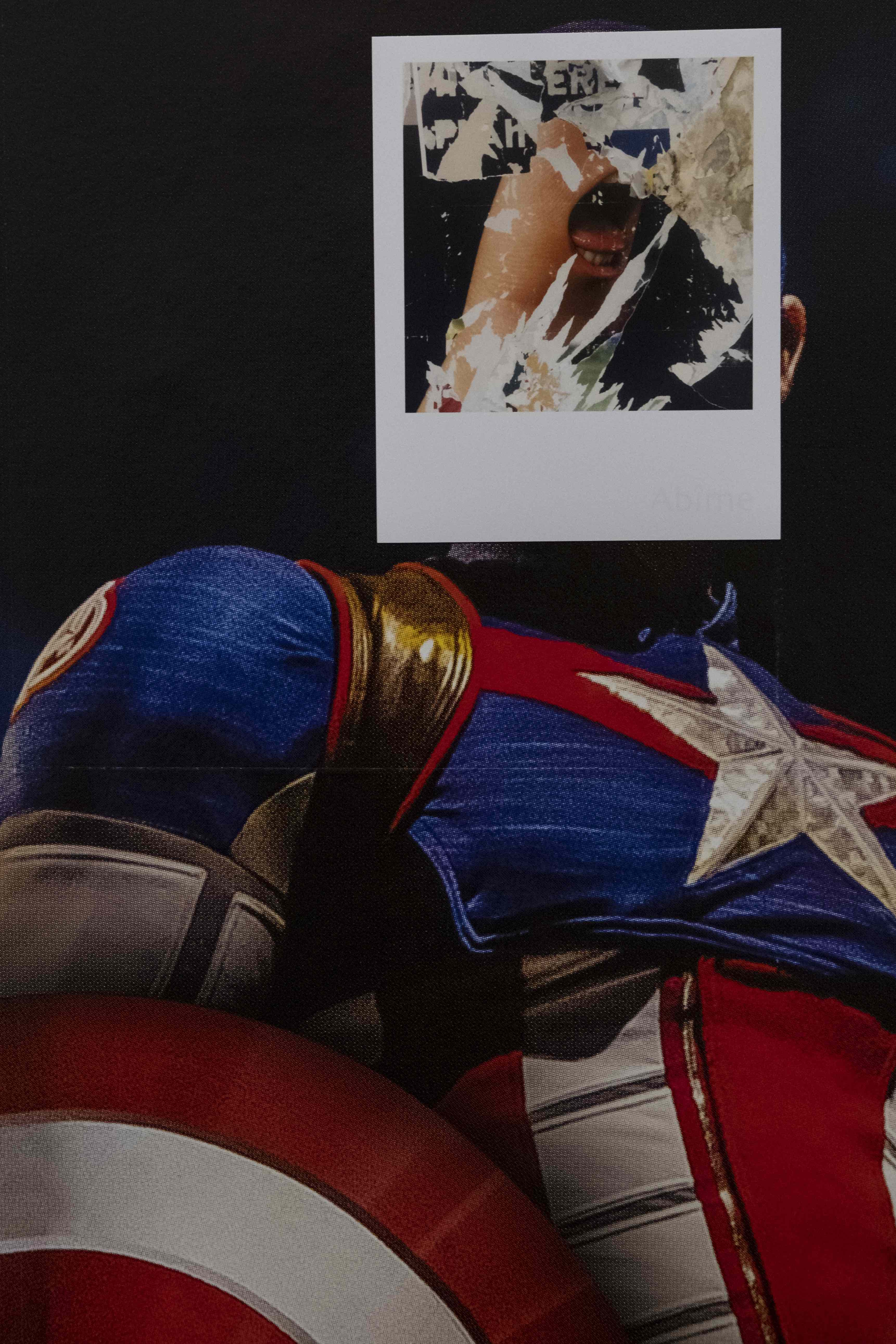 Crédit photos : Corentin SCHIMEL ©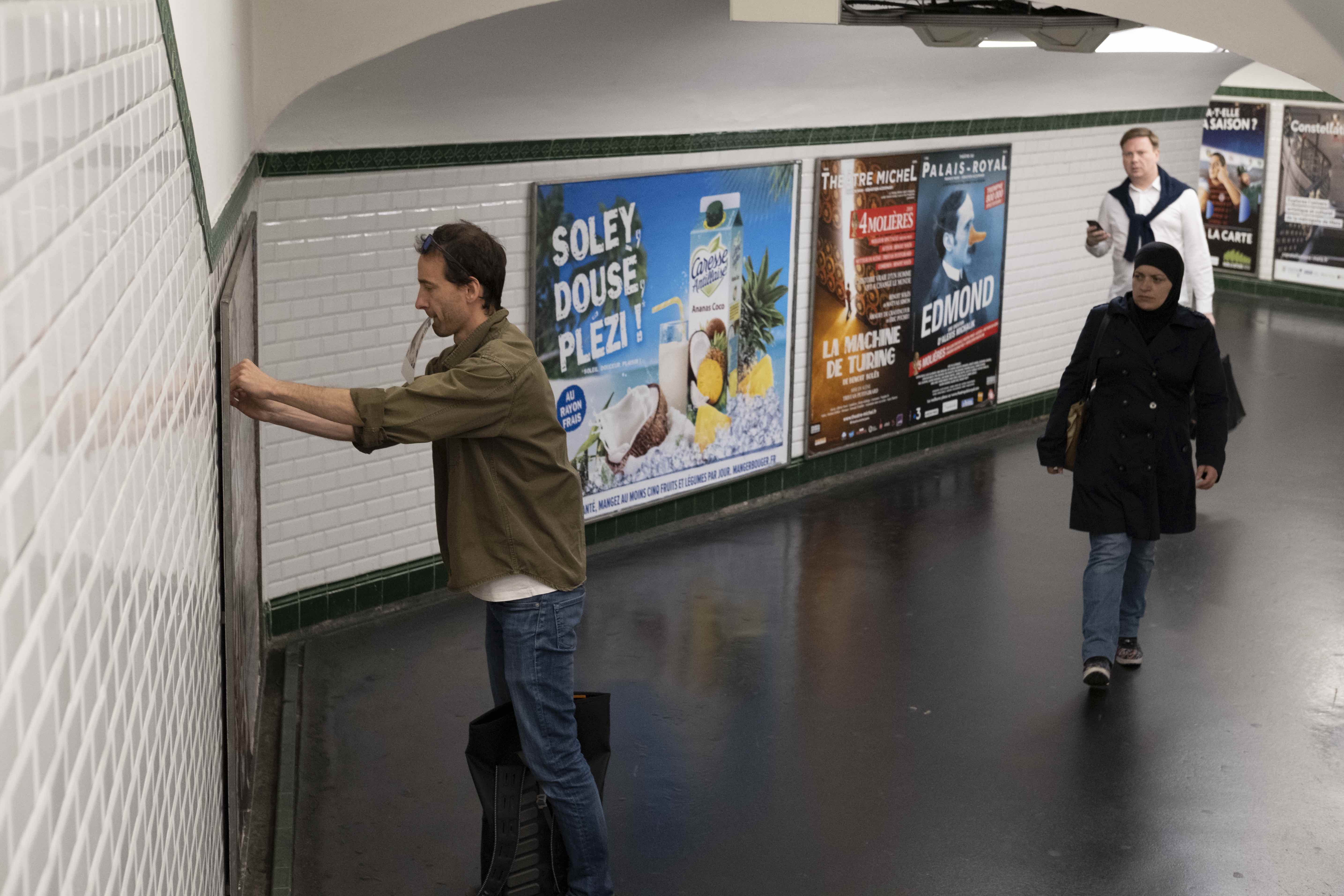 Crédit photos : Corentin SCHIMEL ©
Crédit photos : Corentin SCHIMEL ©